Beauty & Self
Books & Music
Career
Computers
Education
Family
Food & Wine
Health & Fitness
Hobbies & Crafts
Home & Garden
Money
News & Politics
Relationships
Religion & Spirituality
Sports
Travel & Culture
TV & Movies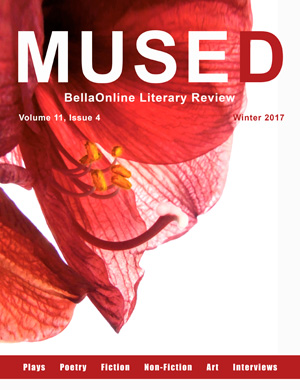 We all travel on this blue-green ball around our very own star each year, sliding a little closer, sliding a bit further away. The balance is critical. Too much closer and we'd roast. Too much further away and we'd freeze.

We should be aware of just how blessed we are that our Earth is "just right" - and do what we can to keep our world healthy. It's the only one we have.

Enjoy the Mused Winter Solstice 2017 Issue



Canis Minor – the Lesser Dog
Astronomy - Mona Evans, Editor

Canis Minor is one of Orion's hunting dogs. It trots along behind its master unperturbed by the unicorn (Monoceros), and leaving the hare (Lepus) to the greater dog (Canis Major) to chase. It's a small constellation with not much more to offer than one bright star, but it has a long history.




Protect Your Home from Predators
Senior Issues - Pamela Slaughter, Editor

This article shares when and how seniors often end up losing their equity or even their homes to predators, and how to protect themselves.




Pierna - Pork leg with Prunes and Chipotle
Mexican Food - Mickey Marquez, Editor

Pork leg, more marbled than the loin, is a popular cut of meat in Mexico, used in a variety of ways, chopped for stews, roasted and pulled for the famous "torta" sandwiches, this elegant recipe is a citrus marinaded pork leg, stuffed with prunes and chipotle in escabeche. Perfect for celebrations.




Shengdanyachi Bhath Recipe
Indian Food - Sadhana Ginde, Editor

My Spicy Peanut Rice is a wonderful representation of Maharashtrian fare & is a must try for all peanut lovers! But if peanut allergies pose an issue, no worries - just substitute chickpeas in place :-)




Review of Alterknits
Knitting - Korie Beth Brown, Ph.D., Editor

Lovers of stitch dictionaries and stranded knitting are in for a double treat with this beautifully designed, if somewhat pricey, tome.




10 Great Tips For Planning A Family Cruise
Cruises - Nancy Schretter, Editor

Cruises are great choices for family vacations. Cruise lines offer a wide variety of exciting itineraries and there's something for everyone onboard today's cruise ships. If you're planning a family cruise, here are ten tips for making it your best vacation ever.


| Google+ |
E D I T O R R E C O M M E N D E D
The Weiser Field Guide to Cryptozoology


The Weiser Field Guide to Cryptozoology by Deena West Budd includes information, interviews, and stories about forty different cryptids seen in various places all over the world by credible eyewitnesses like policemen, rangers, and doctors. Readers will learn where and how to find flying humanoids, hairy humanoids, giants of all kinds including rabbits, bats and spiders, goblins, and vampires.
Making and Dressing Cloth Dolls


This ebook contains patterns and step by step instruction for making 5 different cloth dolls. These are some of the most popular dolls on the Doll Making Site all together in one handy book.