Beauty & Self
Books & Music
Career
Computers
Education
Family
Food & Wine
Health & Fitness
Hobbies & Crafts
Home & Garden
Money
News & Politics
Relationships
Religion & Spirituality
Sports
Travel & Culture
TV & Movies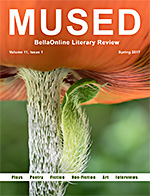 In our modern world of 24-hour diners and around-the-clock email, it sometimes seems as if we've lost track of nature's cycles. But then the Spring Equinox comes along and reminds us to pause. For thousands of years, cultures around the world have recognized this one special day as representing a balance of light and dark. It's a unique moment in time where our world settles in equilibrium – just for a breath. And then the sunlight shines out and pulls us deeper into Spring.

Enjoy the Mused Spring Equinox 2017 Issue



Review of 60 Quick Knit Toys
Knitting - Korie Beth Brown, Ph.D., Editor

Interested in making toys? This collection of patterns may be what you need!




Yoga and Stress Relief
Yoga - Korie Beth Brown, Editor

Everyone knows that yoga helps with stressful days, but what's the science behind the claim?




Those Suffering Persecutions Found in Art
Art Appreciation - Camille Gizzarelli, Editor

During the Easter season, Christians around the world are reminded of Christ's death & resurrection. Those suffering persecutions because of political or religious beliefs have been represented in art.




Self-Defence For Daughters Of All Ages
Daughters - Tuculia Washington, Editor

Let's explore tips on how to stay safe, and look for warning signs in an abusive relationship. These tips could be the tips that would save your life.




7 Tips For Getting Cheap Flight Deals
Cruises - Nancy Schretter, Editor

Airfares can be a huge part of any vacation budget, but experts often know hidden ways of finding the cheap flights. A little research can often save hundreds of dollars per ticket. If you're looking for a fantastic airfare deal, here are seven insider tips for finding a great cheap flight.




Mother Nature, The Original Aromatherapist
Fragrance - Juliette Samuel, Editor

Have you been outside lately? Notice any changes in the aroma in the air? The smell of honeysuckle, lavender or the stench of a skunk? Say hello to Mother Nature, the original aromatherapist.


| Google+ |
E D I T O R R E C O M M E N D E D
Golf Rules Illustrated


Beginning golfers should have this book as they learn the game of golf and experienced golfers should refer often for reference. Knowing the proper etiquette with help you enjoy the game. Published by the United States Golf Association.
How to Write Descriptions of Eyes and Faces


by Val Kovalin, your BellaOnline editor for the Fiction Writing site. Learn to describe the appearance of the eyes, actions involving the eyes, and how to describe eyelids, eyebrows, and eyelashes. More than 2,000 words explaining 82 color names to assign to eyes. Facial shapes, forehead, ears, cheekbones, nose, lips, chin, and facial hair. Learn how the face shows different emotions, and more!
EatingWell Magazine


EatingWell is the award-winning magazine that focuses on healthier eating habits for the entire family. EatingWell magazine features articles on subjects such as how to prevent weight gain during the holidays, foods that boost metabolism, healthy budget dinners, and dangerous ingredients that you may not realize you´re eating.